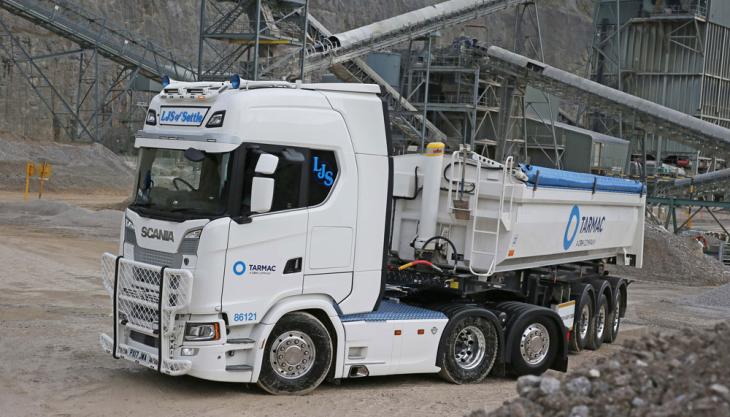 Hyva FC169 tipping gear provides the vital link in company's new Scania/Wilcox tipper combo
MANY of today's tippers are among the smartest and best specified of all commercial vehicles on the UK's roads, but is there really a single 'ultimate' tipper out there? There is, according to LJS Transport of Settle, in North Yorkshire, and to prove it they say they have just put it out on the road.
Operating predominantly on aggregates work around northern England, the company's latest truck is a next-generation 6x2 tag-axle Scania fitted with the Swedish manufacturer's biggest 730hp V8 engine.
The trailer it pulls is a top-spec unit too – a low-sided Wilcox aggregates model complete with extra-long, 7,130mm stroke Hyva FC169 tipping cylinder plus rear steering axle and a sliding bogie.
'We chose this tractor and trailer combination simply to give us the best tipper possible,' said company owner Lee Stavely, 'and as a result we are getting some important operating advantages. Journey times are notably quicker, as with 730hp and huge reserves of torque, the truck drives almost like a car, even at a full 44 tonnes.
'Already, we've been working through the hills of Wales, up the steep inclines of the M62 and over to East Yorkshire – the truck simply overcomes with ease each and every adverse driving condition. There's simply nothing else like it.
'Apart from its road performance, the truck has one other key advantage too,' continued Mr Stavely. 'Thanks to both the lifting tag axle on the tractor and the sliding bogie on the trailer, we can reduce the effective wheelbase of the whole vehicle to the very minimum, thereby allowing us to deliver to sites with restricted access that are effectively impossible for a standard artic tipper.'
Significantly, this particular trailer model with its Hyva gear has been tilt tested to 8.5°, markedly ahead of the UK 8x4 rigid requirement of 7°. Also, the trailer is fitted with a Quicksilver liner that results in the load nearly always being fully discharged before the body is even half way up.
Mr Stavely added: 'Because of these combined operating advantages, our overall productivity goes up, primarily because we are looking at getting an extra two or three loads out of the truck per week. And, of course, we are always carrying a lot more product than an 8x4 can deliver. It's this overall degree of total operating capability that makes this truck so exceptional – and worth the investment.'
Today, LJS Transport are busier than ever and have seen their fleet size grow from 18 to 30 trucks in the last 18 months.
Hyva tipping cylinders continue to be the company's first choice for its trailers, on the basis of their 'fit and forget' reliability. 'The tipping gear is only a small part of the truck,' said Mr Stavely, 'but a crucial one. If the tipper doesn't tip, then the whole vehicle just stops dead in its tracks.'
Such is their commitment to having one of the highest-specification tipper fleets anywhere in the country, LJS Transport say they have no problem in attracting drivers.
In turn, those that are lucky enough to drive the company's premium vehicles inevitably take the best possible care of their steeds, thereby returning all the follow-on benefits of reduced repair and maintenance costs, optimized fuel economy and a commitment to professionalism and safety.