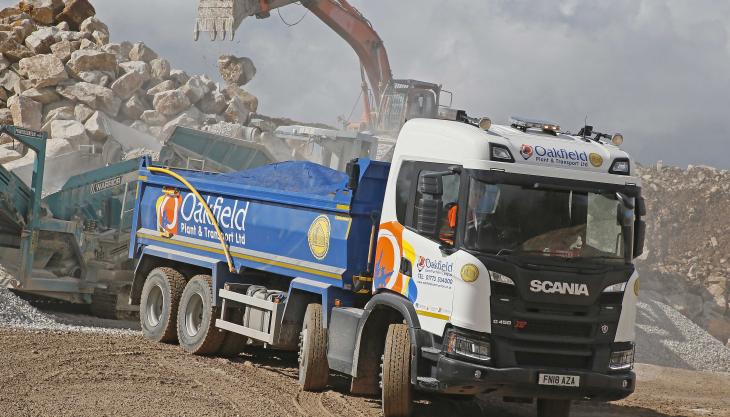 Oakfield Plant & Transport's new fleet of Scania XT Loadmaster Lite tippers first on the road in the East Midlands
LIKE many tipper companies in the UK, Oakfield Plant & Transport Ltd of Moorgreen, Nottingham, have marked their faith in Thompsons tipper bodies by placing regular repeat orders.
For its latest '18-reg' intake, the company has now arrived at what it considers to be its ideal tipper spec by pairing the long-proven steel Loadmaster Lite tipper body with Scania's latest XT 8x4 chassis.
With four of these trucks now hard at work, Oakfield have become first fleet to operate XT tippers in the East Midlands.
Transport manager Alex Bausor commented: 'As a company, we're always keen to present ourselves as forward-looking and at the very front of our industry.
'We want to be seen by our clients as being completely professional by embracing all the latest products and available technologies. And whilst most people will see our new chassis first, the fact is that the Loadmaster bodies themselves are just getting better and better too.'
So how does Thompsons' Loadmaster Lite tipper body keep on improving? Sales manager Ian Chaplin explained: 'Every year we invest heavily in our factory technologies to deliver products with higher-than-ever finished quality.
'The most obvious recent example of this has been a £500,000 investment into each of our Blackburn and Croydon production sites, to equip them with full shotblast and paint facilities.
'As a result, we now have 100% internal quality control from cutting the first metal right through to delivering a fully finished vehicle immediately ready for work. This is what makes Thompsons unique in the marketplace.
'Similarly, ongoing investment into all areas of our machine tools, from laser cutters to bench presses, not only improves the precision, accuracy and quality of all our products, but also lets us achieve greater production efficiencies in our factories.
'Customers such as Oakfield readily acknowledge that not only have the quality of our bodies never been better, but also that they clearly lead the industry.'
Put to work on every type of job from heavy-duty site clearance to delivering all types of quarry products, the new XTs with their single-skin steel Loadmaster Lites offer an 18.5-tonne plus payload capacity and top tipper spec that includes a 450hp engine, auto gearbox and a roomy cab.
'We really want the best trucks we can get,' continued Oakfield's Alex Bausor, 'and pairing the Loadmaster with the XT is surely the optimum combination. What ultimately counts, though, is how much sheer work the truck can deliver for us, so the accent is really on how we can really achieve maximum overall vehicle performance.
'Whatever the chassis, we come back for the Loadmaster Lite again and again because its complete reliability gives us zero downtime.
Our Lites are also specified with air-operated automated tailgates, so not only does the driver not have to get out of the cab when loading or tipping, but the whole tipping cycle is speeded up as well.'
Oakfield's performance criteria also includes how the vehicles slow down and stop, which is why the latest quartet have also been fitted with high-performance Scania retarders that offer a big improvement over conventional pedal-only braking operation.
As a result, the new tippers offer a significant extra margin in road safety, whilst also reducing potential downtime due to brake fade and overheating.
Presenting Oakfield Plant & Transport with a totally up-to-date image is not just about the company's choice of vehicle hardware ¬– it's also about how the trucks actually look.
Not only does Alex Bausor have the key responsibility for vehicle selection, but with his considerable skills in graphic design, he's also designed their livery too. 'Loadmaster Lite's clean, modern lines create an excellent base on which to create an attractive livery,' he said.