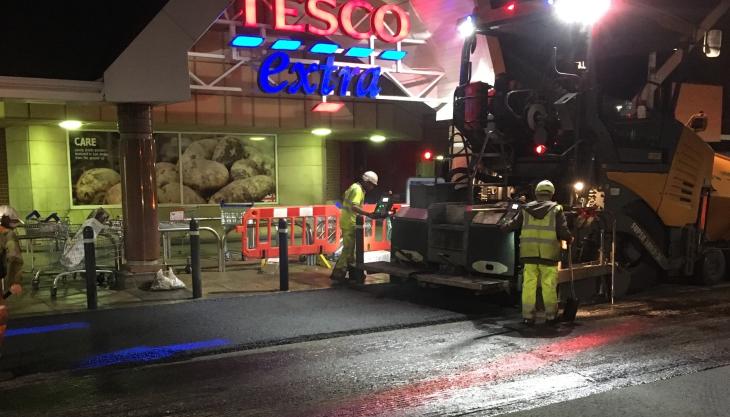 Retail giant specifies Hanson's reduced-emission asphalt and energy-reducing warm-mix technology
TESCO have specified Hanson's reduced-emission asphalt (REA) to resurface four customer car parks across the country.
The product, which helps to minimize the impact of asphalt production and laying on local air quality, is being produced using the company's energy-reducing asphalt (ERA) warm-mix technology to provide a complete sustainable solution.
REA uses Shell Bitumen's specialist FreshAir binder, which helps reduce emissions from asphalt mixes by an average of 40% compared with conventional bitumen. It acts directly with some of the chemical compounds affecting air quality, as well as odour-releasing molecules, helping to cut specific gases and particulates or minimize their release into the air during production and paving.
Contractors NMC Surfacing have laid a total of 3,100 tonnes of REA at Tesco car parks in Tadcaster (North Yorkshire), Whitchurch (Shropshire), Longton (Stoke-on-Trent) and St Helens (Merseyside).
'Tesco were looking for an innovative new surfacing solution to meet their sustainability targets and those of their stakeholders,' said Haroon Rashid, managing director of NMC Surfacing. 'Hanson REA combined with ERA technology ticked this box as well as the retailer's key drivers of innovation and value.
'We have been very impressed with the quality and performance of the material and Tesco have plans to use it to resurface more of their car parks over the coming months.'
Gareth Day, Hanson UK asphalt managing director, added: 'The combination of ERA warm-mix asphalt and REA provided a sustainable solution which reduced embodied carbon as well as emissions from the asphalt.
'Using ERA realized a saving of 7,630kg of CO2 emissions, compared with conventional hot-rolled asphalt, while the REA used is estimated to have a similar effect on particulate matter as planting 146 trees and a similar impact on the reduction of NOx as removing 366 cars from the road.'