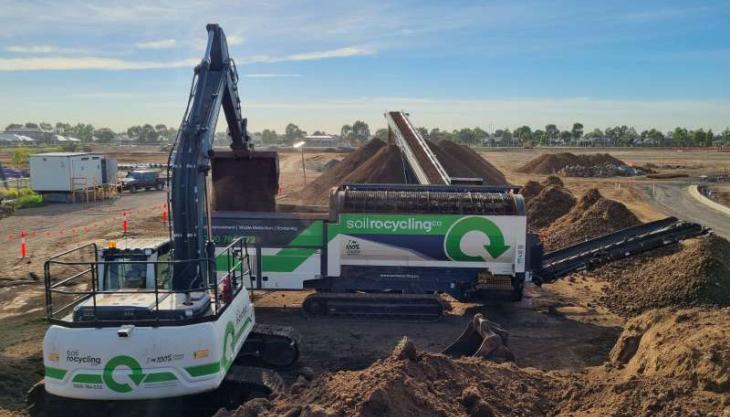 Soil Recycling Co. purchase TTS 620T tracked trommel screen and TSC 65T mobile conveyor
AUSTRALIA-based Soil Recycling Co. have recently taken delivery of two new Terex Ecotec machines – a TTS 620 tracked trommel and TSC 65T tracked stacking conveyor. Founded in 2020, the Melbourne-based company specializes in mobile soil recycling, remediation, screening, and solid inert waste reprocessing, with the ultimate goal of reducing waste materials through innovative and environmentally responsible solutions.
Offering a modern trommel design, the TTS 620T unit provides unrivalled application flexibility, production rates, and serviceability. The machine's highly efficient engine enables Soil Recycling Co. to reduce their operational costs whilst an advanced material processing control system ensures the trommel runs at maximum throughput and processes a wide variety of materials, including sandy soils, heavy clay, aggregates, compost, mulch, and mixed waste.
An intuitive push button control panel allows the operator to easily configure the machine to suit the required application. In addition, there is an intelligent feeder control system that continually adjusts the feeder speed to optimize screening rates.
The TTS 620T's innovative design means drum changes can be made in a matter of minutes allowing Soil Recycling Co. to quickly adapt to the material being screened. All conveyors can be removed independently for ease of maintenance. The swing out engine cradle gives operators unrestricted ground level access to all service components, whilst hinged doors on both sides of the trommel drum offers unobstructed access for maintenance and cleaning.
Working in tandem with the TTS 620T mobile trommel is the 65ft long TSC 65T tracked stacking conveyor, which can stockpile material to a maximum height of 10m and at a rate of up to 500 tonnes/h. By pairing the TTS 620T machine with the TSC 65T tracked stacking conveyor, Soil Recycling Co. are able to increase stockpile capacity, minimize on-site material handling, and reduce operational costs by eliminating the need for additional loading equipment and manual labour. 
Chris Keay, director of Soil Recycling Co., has also been impressed by local Terex Ecotec distributors Finlay Waste and Recycling's customer service and aftermarket care. He commented: 'The TTS 620T itself is great, innovatively designed and operating exceptionally well, but it's the service from Finlay that has been first class. They have been attentive and provided great backup and support. We were super happy with the trommel that when we looked at purchasing a stacker, we couldn't look past the TSC 65T and the decision was easy.'
Richard Lavery, Terex Ecotec's regional sales manager, added: 'Our valued customer Soil Recycling Co. are at the forefront of the Melbourne soil processing industry. The TTS 620T trommel screen and TSC 65T stacking conveyor have enabled Chris [Keay] and his team to operate more sustainably than previous processes while bringing extra value to the business's operations by reducing material transport costs, increasing productivity, and machine reliability.'