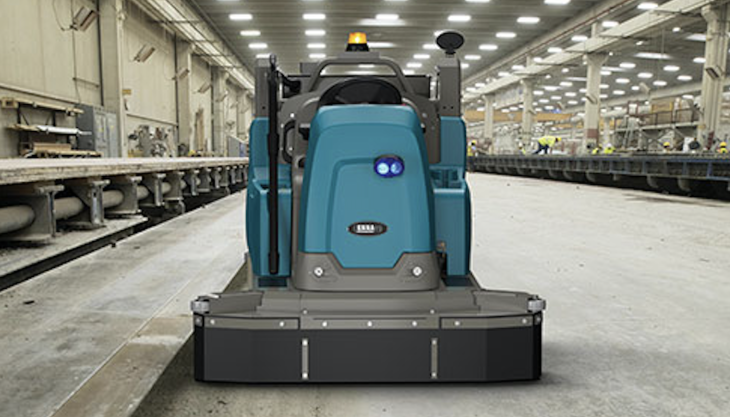 New battery-powered sweeper with innovative features for improved performance, productivity and efficiency
TENNANT UK have launched the S16, their newest battery-powered ride-on sweeper featuring leading-edge innovations designed to combat the challenges facing today's industrial facilities managers. The versatile fume-free machine has been engineered for ease of operation and maintenance, whilst providing big productivity benefits.
'The S16 brings the reliability and exceptional performance you'd expect from Tennant along with the versatility to serve a variety of indoor and outdoor applications,' said David Strohsack, vice-president of global marketing for Tennant Company.
'We understand the challenges our customers are facing. They are committed to maintaining the health and safety of their facilities and enhancing their properties' image, all while facing pressure to reduce the cost of cleaning.
'Tennant developed the S16 with these challenges in mind. The result is a solution that enhances the image of our customers' facilities, prioritizes health and safety, and simplifies maintenance and operation – all with a low cleaning cost.'
The S16 sweeper's innovative technology includes:
MaxPro sweeping technology – for consistent brush power regardless of surface and debris changes in both indoor and outdoor applications, allowing users to achieve consistent cleaning results on various surface types
One-step start button – the most recent machine settings are automatically remembered and engaged simply by pushing the machine's large green button to start cleaning
Eco-Mode – for reduced energy consumption, helping to extend run time and reducing noise for any-time cleaning
VarioHeight handle – featured on the low-dump model, this provides more ergonomic operation and increased safety for operators when dumping.
Tennant say customers can further maximize their productivity by selecting a configuration which features dual side-sweeping brushes that deliver an extended sweeping path, and/or a dry vacuum wand for cleaning in tight spaces. A certified falling object protective structure (FOPS) overhead guard is also available.