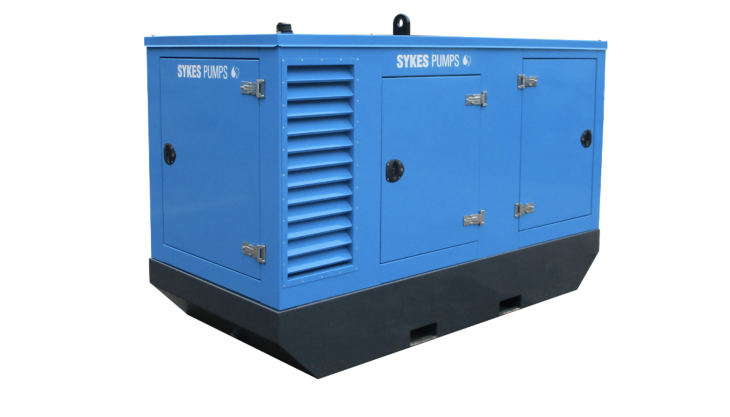 Pump hire specialist launches versatile new HP150 Super Silenced jetting pump for range of applications
PUMP hire specialists Sykes Pumps have enhanced their super-silenced diesel pump range with the launch of the new HP150 Super Silenced jetting pump.
Suitable for any jetting, dust-suppression or temporary fire-protection applications, the 6in HP150 Super Silenced diesel pump has been developed following months of market research and significant investment by Sykes Pumps to address specific customer requirements across a range of specialist needs.
Capable of removing sediment build-up or obstructions, the new pumps can operate at heads of 90m with maximum flow rates of 100 litres/s, while offering low-noise operation for discreet use. Robust and hardwearing, the unit is compact and manoeuvrable for rapid deployment and has a standard skid base chassis for easy placement in any location.
The versatile HP150 Super Silenced model is suitable for a wide variety of applications across a diverse range of sectors, including quarries and washing plants. It also provides a powerful, rapid deployment solution for emergency pumping requirements.
Designed for convenience in any location, the pump incorporates a built-in fuel tank with a 170-litre capacity, allowing it to run for up to 24h before requiring refuelling for all-day and overnight unattended operation with continuous use.
The HP150 Super Silenced pump also offers economical operation for fuel efficiency and reduced whole-hire costs and features Sykes Pumps' Univac priming system for rapid automatic priming and re-priming from dry.
With technical support and a national branch network, Sykes Pumps can provide the HP150 Super Silenced jetting pump with a variety of accessories to allow the installation to be tailored to any requirement.
Chris Graham, sales director at Sykes Pumps, commented: 'There are many applications for this pump because it offers unsupervised operation, durability, high performance, ease of deployment and quiet operation in a single, fuel-efficient unit.'