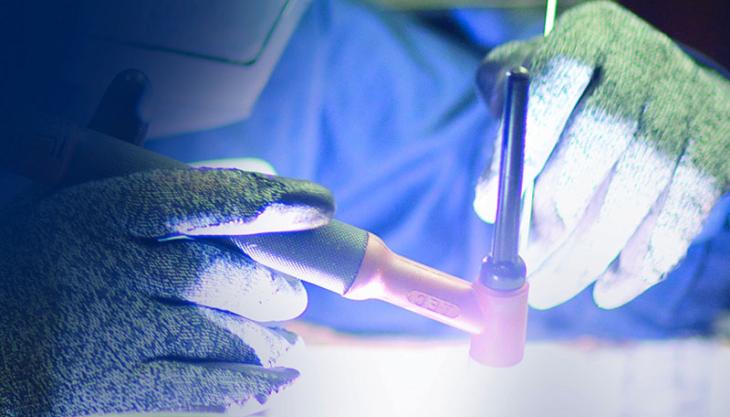 New safety gloves help protect workers' hands from arc flash burns, flames and cuts
THE new Showa 240 glove has been added to the range of hand-protection solutions from British company Globus, a world leader in protecting hands. The gloves, which have been made with flame-resistant materials to provide effective protection against arc flash burns, flames and cuts, are said to be particularly suitable for maintenance and electrical workers as well as resistance welders.
According to Globus, electrical safety is one of the most overlooked occupational hazards; in 2013–14 some 434 serious incidents – including eight deaths – were provisionally reported in Great Britain under the Electricity Safety, Quality and Continuity Regulations 2002. The provisional statistics show that a further 11,254 less serious incidents were also reported.
The potential risk from an electrical arc flash is ever-present for those who carry out electrical maintenance or work with electrical equipment, and severe burns from heat and molten metal often result in serious injury.
The Showa 240 glove is designed to provide hand protection when turning switches on or off and when working around electrical equipment, although other flame-resistant personal protective equipment (PPE) should also be worn for complete protection.
In addition to arc flash protection and flame resistance, the glove design offers lasting comfort and flexibility. Anatomically engineered with a seamless composite liner containing Kevlar engineered fibre to provide high levels of cut protection, the glove also ensures good grip in challenging handling environments thanks to its durable Neoprene palm coating.
The Showa 240 has been through several rigorous tests and is rated as Hazard Risk Category 2 (NFPA 70E), having achieved an Arc Thermal Protective Value (ATPV) of 9.2 Cal/square centimetre for arc flash, as well as having EN 407 Level 4 resistance to flammability and EN388 Level 5 cut resistance. It has also been tested in accordance with the ASTM D6413 vertical flame resistance test.
Steve Shale, marketing manager of Globus, commented: 'When you consider that up to 80% of all electrical injuries are burns resulting from an arc flash and ignition of flammable clothing, it is essential to wear protective gloves with the right flame-resistant properties. With the addition of the new Showa 240, it's great to be able to help protect workers in high-risk occupations. Those exposed to sharp-edged surfaces within electrical panels will also benefit from the glove's excellent cut protection.'
The Showa 240 is available in small, medium, large and extra-large sizes.