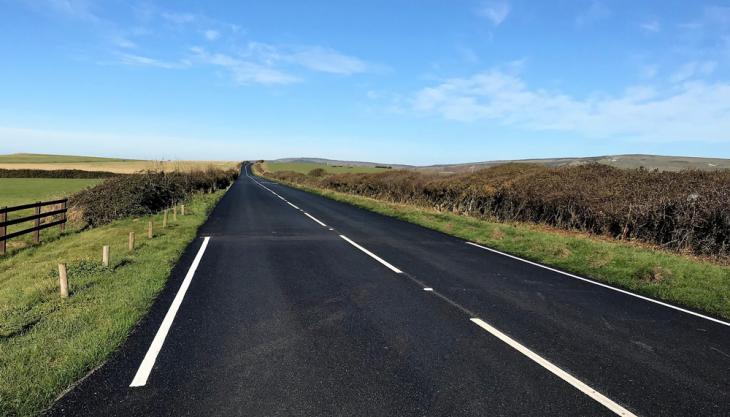 Company completes its largest carriageway improvement project on the Isle of Wight
RINGWAY Island Roads have just completed a major upgrade to one of the UK's most iconic roads on the Isle of Wight. A 7.5-mile section of the iconic Military Road has been upgraded in what is the largest carriageway improvement project delivered in a single scheme by Island Roads.
The Military Road project was part of the island's Highway Improvement Programme, which is financed largely through a grant of £477 million awarded by the Department for Transport.
The whole section between Brook and Chale has been resurfaced and, where necessary, rebuilt in a scheme lasting just over four weeks. The whole 12 miles of the Military Road has now been upgraded by Island Roads.
The 65,000 sq m area upgraded used 24,000 tonnes of high-performance asphalt, which included 17,831 tonnes of RecoFoam supplied by Wight Building Materials, who reprocessed and reused asphalt from the island.
The upgrade also used 5,311 tonnes of ULM high-specification asphalt, also supplied by Wight Building Materials, and 1,140 tonnes of AC20 HDM used as an alternative heavy-duty base layer for particular higher-stress areas.
Island Roads scheduled the project for outside the main holiday season but before the onset of winter when severe conditions – and resulting delays – could be expected. Work was also carried out around the clock to reduce disruption and continual liaison was undertaken with local business and residents to accommodate their access needs wherever possible.
Keith Gourlay, Island Roads' construction manager, said: 'We would really like to thank the local community for the support and co-operation they gave us during the work.
'We were pleased to be able to deliver this major improvement project with only a small number of lost shifts – through issues such as adverse weather and ground conditions – and we hope residents and tourists will now enjoy a smoother ride on this scenic and historic stretch of road.'
Ian Ward, Isle of Wight Council Cabinet Member for Infrastructure and Transport, said: 'This project was a huge undertaking and I am delighted it has been delivered to schedule and with considerable effort given to working with the local community to minimize disruption.'