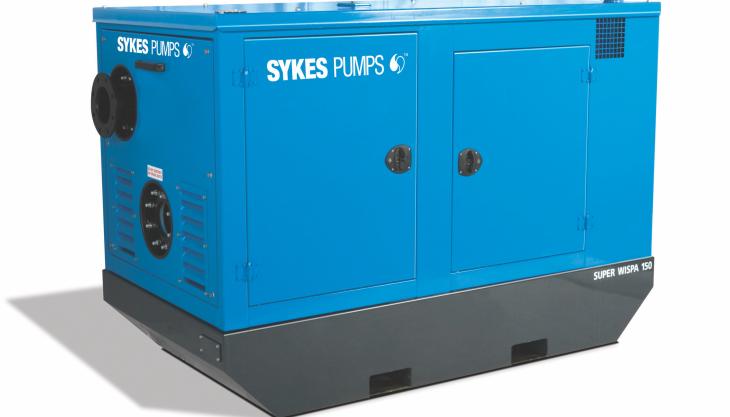 Pump hire specialist adds low-noise, low-emission 150mm Eco model to super-silent range
SYKES Pumps have added the Super Wispaset 150 Eco to their range of diesel pumps, providing a capable, environmentally friendly model that meets European Tier 5 emissions requirements for non-road engines.
Designed for customers who want to reduce their carbon footprint while retaining performance and quiet operation, the Super Wispaset 150 Eco is a 6in diesel pump with a noise level of just 65dBA at 7m. Tier 5 classification means the new model meets more stringent environmental compliance obligations, including greater control over the ultra-fine, sub-micron soot generated during combustion processes.
Suitable for a wide range of applications, such as clean and dirty water transfer, quarrying and wastewater (including sludge, light slurry, and site dewatering), the Super Wispaset 150 Eco provides flow rates of up to 78 litres/s up to a maximum head of 27m and with solid particles of up to 52mm.
The new pump is based on the popular Super Wispaset 150 within Sykes Pumps' wide-ranging diesel pump range but incorporates a smaller and more economical engine that provides fuel savings and lower emissions, with only a marginally lower pumping output. It is said to be the ideal choice for companies that are focused on delivering carbon-reduction targets across their operations and for environmentally sensitive locations.
Specifically designed for deployment in noise-sensitive environments and well suited to use near residential areas, the units are housed within a robust acoustic canopy and feature a reinforced, bunded partition to eliminate the potential for hazardous oil spillages. The units are also compatible with Sykes' telemetry system, allowing fault monitoring and automated controls.
Chris Graham, sales director at Sykes Pumps, explained: 'We are constantly investing in our fleet to respond to customers' operational, commercial and strategic goals, and it is clear that our customers are increasingly prioritizing environmental best practice alongside performance, service and cost-effectiveness.
'That's why, with the Super Wisapset 150 Eco, we have added a pump to the range that minimizes both noise and engine emissions, while offering the high performance and fuel efficiency customers expect from Sykes Pumps.
'With future emission targets set to become even stricter, we are committed to proactively exploring all technologies, allowing us to remain at the forefront of innovation, offering our customers greater choice and helping them stay ahead of compliance requirements.'