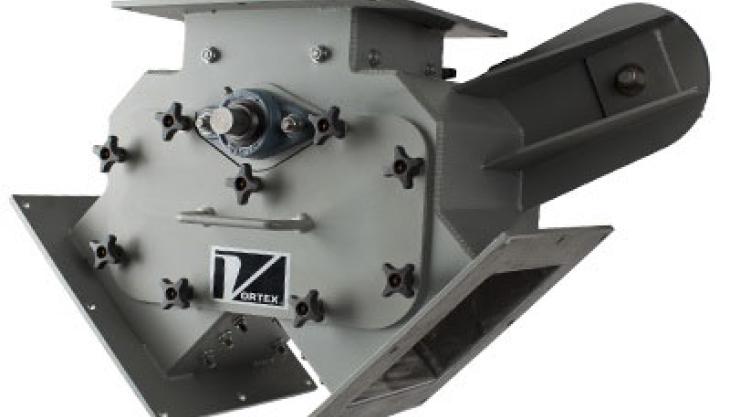 Company introduces new Titan Series and launches version two of its proven HDP slide gate 
US-based Vortex Valves have introduced the new Titan Series group of slide gates and diverter valves (pictured), specifically designed for heavy-duty material handling applications, and released version two of their proven HDP slide gate.
'For years Vortex have been associated with developing valve solutions for light-industry applications, but over time our customers have asked us to develop more robust products for abrasion resistance, better maintenance, and reliability,' commented Travis Young, Vortex's vice-president of global business development.
'Through this co-operation with our clients, we have managed to build up a wide range of solutions for these difficult applications. We have branded the new line as the 'Titan Series', which helps distinguish our heavy-industry product line from Vortex's traditional lighter-industry valves.'
According to Vortex, Titan Series products are engineered for the handling of highly abrasive materials, such as cement, clinker, coal, fly ash, sand, gravel, glass and limestone, and incorporate several design features to minimize downtime and increase process efficiency.
Meanwhile, Vortex have also released the HDPV2 slide gate, which is said to offer significant enhancements over the original HDP design, which is a proven solution in a wide variety of applications handling sticky and/or abrasive powders in systems with positive pressures up to 5 bar.
Since its original release in 2006, the HDP has been utilized in the handling of cullet, glass, sand, cement, borax, kaolin, and a wide variety of problematic bulk solids.
New features of the HDPV2 include: a wider bonnet that eliminates a dead pocket where material could potentially build up; a longer body frame to allow easier inspection and replacement of seals and wear parts while the gate remains in service; and a replaceable nylon insert on the rising clevis, which allows for easy and inexpensive maintenance.
The HDPV2's unique ramp system offers a shimming system that compensates for seal wear over time. The valve's design also incorporates an o-ring seal through the bonnet and utilizes reusable precut gaskets to eliminate material leakage to atmosphere. Moreover, the air cylinder mount is cast into the frame, which reduces potential areas where leakage could occur.