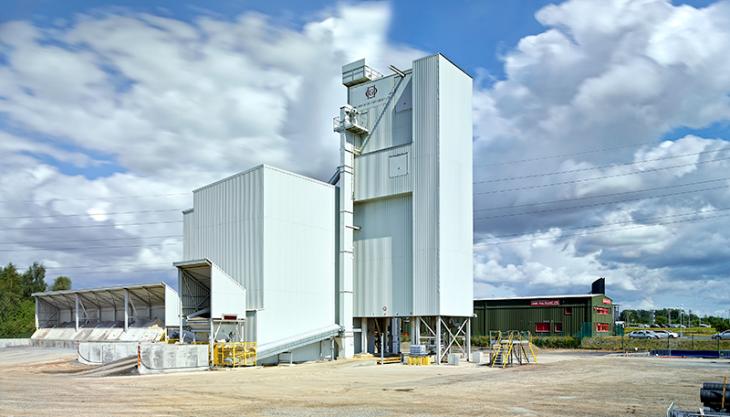 Ammann plant to provide more efficient coverage and service as well as opening up new opportunities
EARLIER this year Scotland's Hillhouse Quarry Group completed the commissioning of a state-of-the-art asphalt production facility at a new site in Cambuslang, Glasgow.
Strategically placed to serve Glasgow and the central belt of Scotland, the new multi-million-pound facility complements the existing asphalt plants operated by the group at the Hillhouse Quarry site in Troon.
The new plant will allow the group to provide more efficient coverage and service to clients in existing markets as well as opening up new opportunities across the central belt of Scotland.
Manufactured and installed by Swiss company Ammann, the plant is said to set new standards in efficiency and economy of operation, environmental compliance and reliability.
In line with Hillhouse Quarry Group's ongoing policy of maximizing the use of recycled materials and reducing their carbon footprint, the new plant is capable of utilizing up to 25% recycled asphalt and operating 100% on secondary fuels.
Hillhouse Quarry Group's managing director, Robert McNaughton, said: 'The Glasgow project marks an important step in the development of the Hillhouse Quarry Group. In order to complement our existing operations, the Glasgow plant had to be capable of large production tonnages while maintaining the ability to meet flexible customer demands and efficiency of operation.
'We believe the new Ammann plant gives us a great opportunity to service a full range of customers from collect trade through to national framework contracts, and we look forward to a long and successful working relationship with our customers and with Ammann.'
Ammann UK's managing director, Malcolm Apperley, added: 'It has been a privilege to be selected as supplier to Hillhouse Quarry Group and for this plant and to be able to support them and share in their ongoing success.
'Ammann have been in the ownership of the same Swiss family for more than 145 years and have in excess of 4,000 plants operating around the world. The experience and commitment to high standards within the Ammann organization will, we believe, give Hillhouse Quarry Group confidence in their substantial investment.
'The plant we have supplied is from our top-of-the-range 'Universal' series, and is easily capable of annual production in excess of 300,000 tonnes, with the flexibility to deliver the entire range of products required in the targeted market area.
'We have worked closely with our new colleagues in Hillhouse Quarry Group to convert their exacting requirements into a working plant which we are confident will serve them reliably into the future. Our company motto is 'Productivity Partnership for a Lifetime', so we look forward to working with our new partners in the years ahead and wish them every success.'