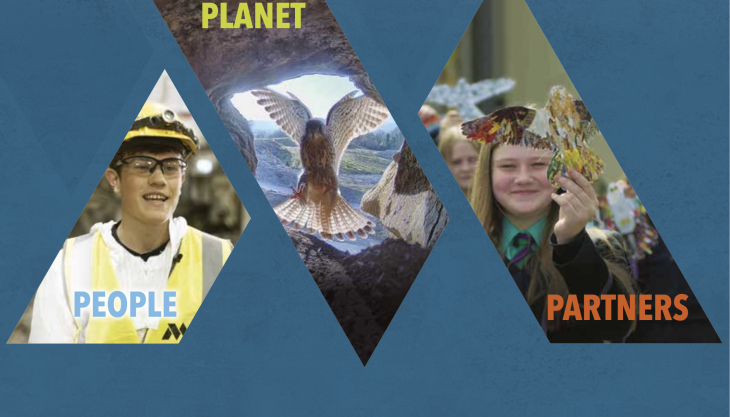 Company's sustainability strategy focuses on three key pillars – People, Planet, and Partners
MANNOK have published their sustainability strategy, the Mannok 2030 Vision, which sets out a roadmap for the company to escalate its sustainability drive for the rest of the decade and position itself to achieve net-zero carbon by 2050.
The strategy sets out a series of ambitious targets for the company, centred around three key pillars of People, Planet, and Partners, which will see significant investment and innovation in each of these core elements in the coming years.
The plans will build on Mannok's successes in recent years – a time when sustainability has become a priority in every area of the organization, and the company has gained recognition in the form of multiple awards for its work with the community and educational institutions, as well as its innovation in safety management and ongoing work with biodiversity.
Chief executive officer Liam McCaffrey explained: 'The publication of our Mannok 2030 Vision is a watershed moment for our business and our employees as we significantly accelerate the progress we've made in recent years to transition our carbon-intensive business to a more sustainable path.
'We've had a very successful number of years in terms of improving the business, increasing, profitability, investment, and employment. As a result, the business is economically sustainable, and we must now build on this for the years ahead.
'I am very proud of our many achievements to date, but there is a clear and collective understanding here at Mannok that we must do more; we have a moral obligation to do everything in our power to offset the worst effects of three of the global crises we are all facing – climate change, biodiversity loss, and the pollution of our environment.
'As a company deeply rooted in the community, we have a considerable responsibility to the long-term environmental, social, and economic sustainability of the region we live and work in, which sits alongside our commitment to our people at the core of our vision and values. We will play our part to make substantial contributions to forge a sustainable future for our people, our communities, and our planet.
'We are committed to taking bold and urgent action, together with our community-wide partners, to significantly reduce our emissions, protect and enhance our biodiversity, and work in a more circular and regenerative way.'
Protecting and investing in their people are two significant themes in the Mannok 2030 Vision. Under the People pillar, the company commits to eliminating lost-time accidents whilst creating a diverse and inclusive workplace with professional development opportunities for every employee, as human resources manager Caroline McCaffrey explained: 'People are the lifeblood of our organization, and with 830 employees we have a duty to look after both the physical safety and mental health of each individual, whilst providing excellent employment and development opportunities.
'The priorities we have outlined for our people are safety, which supersedes all else, well-being and resilience, and continuous learning and professional development.
'With 10 people-focused targets outlined in the strategy, key projects include the establishment of a comprehensive occupational health programme and the extension of our award-winning Skills Development Programme to provide structured career pathways and industry-leading continuous development opportunities for every employee in the business.'
With decarbonization at the heart of the Mannok strategy, the company has outlined the scale of this challenge and its roadmap to achieving its ambitious targets. As a cement manufacturer, Mannok have committed to the ambitious goal to reduce carbon emissions by 33% by the end of the decade and achieve net-zero emissions by 2050.
Giving an insight into Mannok's plan to achieve their decarbonization goals, sustainability manager Paul Monaghan said: 'Decarbonization is the number one challenge for us, but it is essential to the long-term sustainability of the business. We will achieve our target of 33% emissions reduction by 2030 by working in collaboration with industry partners to develop innovative solutions and implementing several key initiatives, and we have identified nine key decarbonization projects to achieve this.
'These initiatives involve looking at a range of solutions in areas such as alternative fuels, alternative raw materials, green renewables, carbon capture, and alternative waste materials in our downstream products.
'Whilst some of the projects are at an early planning stage, others are much further advanced. In particular, we have been collaborating with international researchers on the development of innovative solutions to reduce fossil fuel use even further in the cement production process and hope to be able to bring that work to fruition very soon.'
Alongside the decarbonization efforts, biodiversity and resource efficiency are identified as priorities for the company, with 15 planet-centric targets set out in its strategy.
In partnership with Ulster Wildlife, Mannok have already developed a comprehensive action plan for the almost 2,000 acres of biodiversity-rich lands the company owns across the island of Ireland, which forms a significant part of the 2030 Vision. The plan will see an ambitious programme of restoration, protection, and enhancement of these lands in the coming years, with plans to double the land carbon sequestration rate by the end of the decade.
Resource efficiency and circular economy targets include the elimination of waste, the establishment of water- and energy-conservation programmes, and the leveraging of lean principles to develop circular economy solutions.
Priorities under the Partners pillar of the Vision centre around community, customers, and suppliers. As a community-centric organization, Mannok's commitment to the social, economic, and environmental prosperity of the Fermanagh-Cavan region where they are based is evident in recent years and the targets set out in the strategy aim to build on these achievements.
Not least is the commitment to add new schools' partnerships, bringing the total to six partnerships by 2025. The programme has seen Mannok establish three comprehensive partnerships with local schools since 2016, which, along with their well-established apprenticeship and graduate programmes, earned the company recognition in both the Business in the Community Responsible Business Awards and the Irish News Workplace and Employment Awards for its work with local education establishments.
With a total of 11 targets set out under the Partners pillar, Mannok's strategy also commits to the development of protected local historical site Slieve Rushen House, which is located on Mannok land, to create a heritage and biodiversity centre for the benefit of the wider community.
Working with suppliers and customers, the company will also seek to decarbonize its supply chain, focusing on Scope 3 emissions and responsible procurement, whilst ensuring full transparency on the carbon footprint of its products through voluntary disclosure. Mannok have committed to attaining internationally recognized best-practice standards and establishing a programme of sustainable innovation to bring lower-carbon products to their customers.
Recognizing the scale of the challenge set out in the Mannok 2030 Vision, company operations director Kevin Lunney commented: 'The goals which we have set out in our Vision are very ambitious, with a total of 36 detailed targets to achieve by 2030. The plans will require significant innovation and technological development over the next number of years and will involve a very significant collaborative effort with all our people, our partners, and the community here.
'With the right investment and commitment, we are confident that we will achieve the goals outlined and our people will rise to the challenge to make this business more sustainable and make a significant contribution to the long-term sustainability of our sector and our region.'