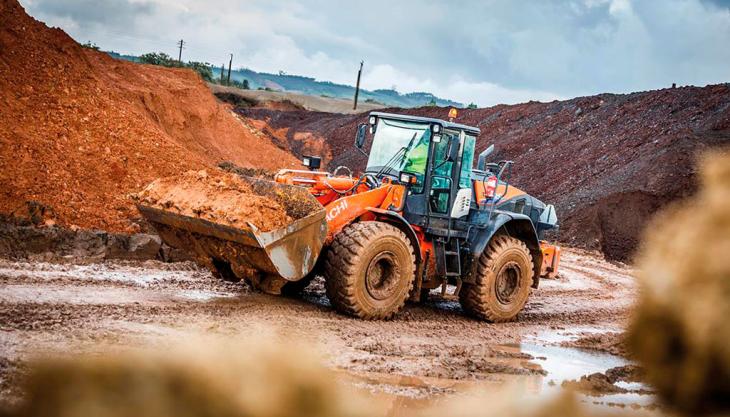 Hitachi ZW220-6 working round the clock in Portuguese clay mixing and exporting operation
A NEW Hitachi ZW220-6 wheel loader has been delivered to Portuguese company Leca to support their operations near the community of Avelar, where they have been mixing and exporting clay since 1969.
The machine was supplied in June 2018 as part of a package of 10 Hitachi machines, with Zaxis-6 medium excavators also being distributed to Leca's other European plants.
'At the time we were looking for a central supplier,' explained industrial manager Bernardo Mendonça. 'We made detailed specifications with precise technical requests and Hitachi presented the most appropriate and cost-effective solution. Our operators were also involved in the selection process and they were delighted with the performance of the Hitachi wheel loader.'
At the 10ha site, the ZW220-6 loader is used to mix three different types of clay, as well as to feed the main chute that leads to Leca's central processing plant.
To help meet demand, the wheel loader must load 600 cubic metres of mixed material into the system per 20-hour shift. The end result is five different types of porous clay that are exported for use in construction and agriculture.
According to Mr Mendonça, the Hitachi wheel loader is perfectly suited to the task: 'One of the biggest challenges we face in Avelar is the 24/7 operation, which means that the wheel loader is required to work constantly. For this reason, the high availability and reliability of the ZW220-6 make it the ideal solution.'
Production manager Helder Alves added: 'The wheel loader works continuously for most of the day, so it must be productive. In fact, our entire production cycle relies on it, because all of the clay material is initially handled by the ZW220-6.
'This job site is an extremely difficult place to work and it is vital that we meet our quota. My experience of the Hitachi wheel loader is that it is better than other machines and performs favourably in all technical areas. The dimensions are ideal for this site; it's user-friendly and the cab is comfortable. In short, we know that we can expect reliability from a Hitachi machine.'