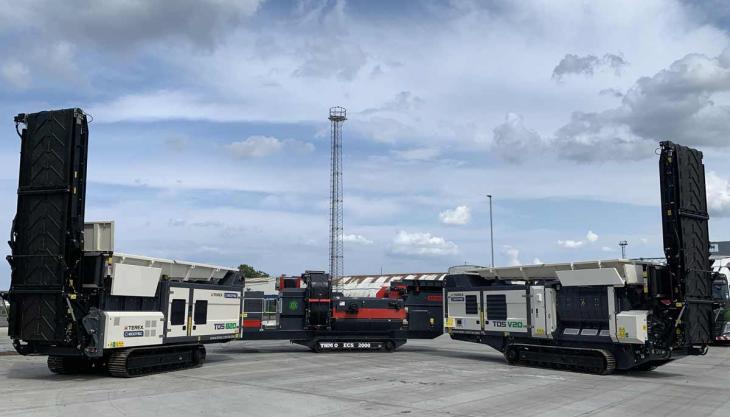 Construction plant dealer to supply Terex Ecotec and Ecohog machinery to Stobart Biomass Products
WARWICK Ward (machinery) Ltd have signed a landmark agreement with Stobart Biomass Products, a leading UK supplier of biomass fuel, for the supply of a Terex Ecotec TDS 820 slow-speed shredder and TDS V20 medium-speed shredder, along with an Ecohog THM ECS-2000 metal separator. 
The new machines will support Stobart's ongoing expansion in biomass and refuse-derived fuel (RDF) production; recycling and processing wood waste into higher-quality chips with targeted specifications, eg minimum fines, oversize etc, for the growing biomass market. 
Before securing the major equipment deal with Stobart, Warwick Ward demonstrated how the Terex Ecotec shredders and Ecohog metal separator could work in conjunction with another, delivering the customer's required specification and producing a uniform, high-quality product, with greater throughput capacity. 
Stobart Biomass Products currently have long-term contracts in place to supply two million tonnes of fuel to energy recovery facilities (ERFs); generating renewable energy equivalent to the annual domestic electricity needs of 2% of the UK population. 
The recent investment in the Terex Ecotec TDS 820 slow-speed shredder, TDS V20 medium-speed mobile plant and Ecohog THM ECS-2000 metal separator will allow Stobart to further enhance their waste-recycling and biomass production process, while ensuring the company's on-site power/boiler plants are fuelled by the highest-quality woodchips. 
'With such a tight specification to meet, Stobart were attracted to the TDS V20's unique ability to produce a high-quality biomass product, with minimal fines and oversize, without compromising on throughput,' commented Mark McGlinn, territory sales manager for Terex Ecotec. 
'The intelligent contaminant protection air-bag system on the shredder also provides the confidence that no major damage will be caused should a foreign object slip through the net. Working in conjunction with the versatile and highly efficient TDS 820 pre-shredder gives their operators familiarity, using the same simple, easy-to-navigate control system on both machines.'
These operational benefits, together with the health and safety benefits gained from ease of maintenance and serviceability across all three machines, have resulted in Warwick Ward setting up mobile lines across two sites – Port Clarence (Middlesbrough) and Widnes (Liverpool) – for Stobart.  
James Tunnicliffe, recycling sales manager for Warwick Ward, said: 'Following the machine trials, attended by representatives from Warwick Ward, Terex Ecotec and Ecohog, we took members of the Stobart Group to Northern Ireland for factory tours of Ecohog and Terex Ecotec, which also included a visit to Terex's multi-million-pound parts factory. 
'Having seen the equipment in operation on their site and then visiting the manufacturers, Stobarts were extremely impressed with the facilities, and we completed the deal in June 2019 for six new machines and a three-year service agreement covering them.'
Tristam Hubbard-Miles, global sales director for Ecohog added: 'We are delighted to have worked with Warwick Ward to secure another high-profile biomass processor contract in the UK. 
'Our THM ECS-2000 is a well-established solution that adds value to the process by recovering valuable non-ferrous and ferrous metals, and other contaminants, whilst also removing them from the biomass to protect the downstream boilers. We look forward to supporting the ongoing relationship between Warwick Ward and Stobarts in the future.'