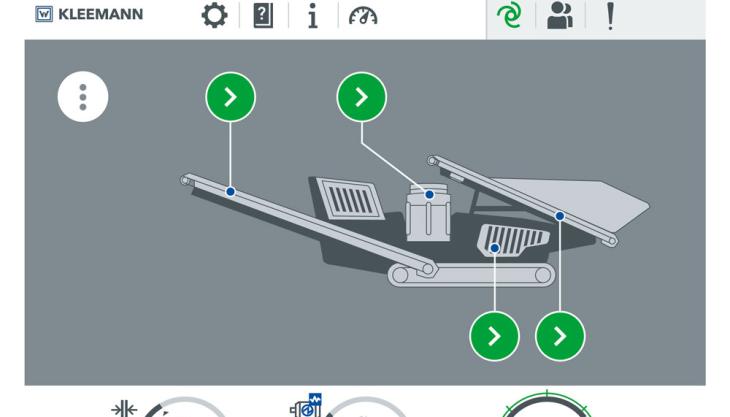 Mobicone MCO 11 PRO cone crusher with brand new control concept to be shown at Conexpo-Con/Agg 2017
AT Conexpo-Con/Agg 2017, a Kleemann Mobicone MCO 11 PRO cone crusher featuring the company's brand new Spective control concept will be one of four advanced-design mobile crushing plants on show on the Wirtgen America stand.
Designed for tough and demanding quarry applications, the high-performance cone crusher is powered by a diesel-electric drive and can achieve outputs of up to 470 tonnes/h. The plant can also be equipped with an external power supply for even more efficient operation.
Also, as the hydraulics are installed in the lower part of the plant, the MCO 11 PRO has a low center of gravity and, therefore, more stability, thus helping to reduce noise and vibrations to a minimum. Moreover, all plant components can be easily reached from the ground or via spacious work platforms for maintenance work and refuelling purposes.
The Spective intuitive control concept, which is initially only available for the Mobicone MCO 11 PRO, is simple to understand and uses clear symbols to ensure all relevant plant functions are recognizable at a glance.
Similar in presentation to a smartphone, the operator is guided by the control system, reducing the potential for operating errors. In addition, data relating to the machine operation can be retrieved via the control system, and diesel and lube oil levels, for example, can be viewed in the plant cockpit.
Also on display at Conexpo will be three compact plants from the Kleemann EVO series: the MC 110 Z EVO mobile jaw crusher, MR 130 Z EVO2 mobile impact crusher and MCO 9 S EVO mobile cone crusher.
Featuring an integrated diesel direct-electric drive concept for high performance with economical power consumption, the EVO crushing plants are equipped with the Kleemann's continuous feed system (CFS), which controls the speed at which material is conveyed in relation to the crusher fill level, for optimal operation.