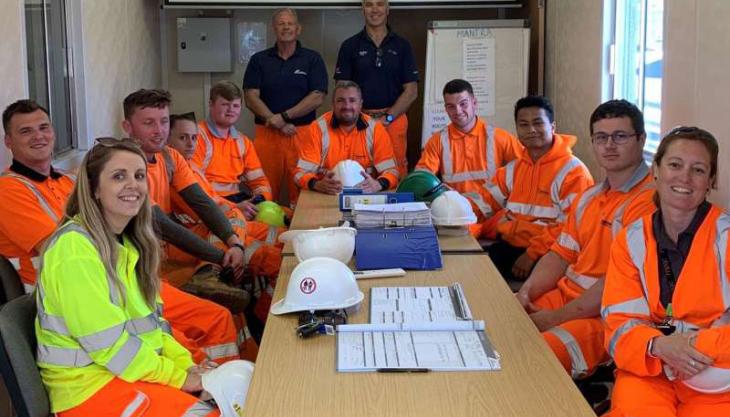 Cohort of apprentices return glowing reports on recent visit to CEMEX UK's West Deeping Quarry
MP Skills' cohort of sector apprentices have returned glowing reports on their recent visit to CEMEX UK's West Deeping aggregates quarry.
The visit, part of the MP Skills level two static and mobile processing operator apprenticeship, saw eight apprentices tour the quarry under the expert guidance of quarry manager Phil McComb and his assistant managers Gavin Herrick and Lee Rudd.
MP Skills' trainers Andy Cox and Julie Edwards, along with apprenticeship co-ordinator Charlotte Richardson, accompanied the apprentices and worked with the CEMEX team to demonstrate the value of an organized and passionate team.
One of the cohort, Ben Campbell, quarry operations apprentice at Longwater Gravel, said: 'As somebody who has a deep-rooted interest in the industry, I found our visit to West Deeping Quarry enormously inspiring. CEMEX's well-ordered approach to the day-to-day running really impressed me. A standout for me was the brilliant housekeeping on site, as well as the professionalism and cheerfulness of all staff. Everybody on site was positive and easy to talk to. Gavin and Phil were approachable and full of knowledge. I'll take away working practices and try to apply them to my own work.'
Learner Gary Gunn also saw great value in the visit. He said: 'There is clearly a very good safety culture, from the access roads to the stockpiling, LOTOTO station on the plant, and even the well-organized and tidy workshop. It struck me that as well as taking the job very seriously, they also thoroughly enjoy what they do at the same time. It was a very worthwhile experience. Thanks to MP Skills for giving us this opportunity and for their support on this course, which is there whenever we need it.'
Explaining the impact of combining off-the-job learning in this way, Andy Cox said: 'There is something very special about face-to-face learning. It reinforces classroom theory in a very memorable way. Thanks to CEMEX, this experience brings together the work the apprentices have done since starting in March. We have more outreach activities planned as their apprenticeships progress to deliver an industry-leading practical and theoretical learning plan.'
'Creating great learning experiences is a vital part of the work we do, because there is no better way to broaden knowledge and consider how it can be applied to a learner's own environment than by seeing and asking questions about the best practice of others,' said Julie Edwards. 'We also work closely with every apprentice's line manager, so each time we meet for visits like this, we already know how they are getting on and where to support their understanding. It's an effective way to learn.'
A new apprentice cohort will start in September with places available for any business wishing to add their new or current staff to the mobile and static plant operator level two course.