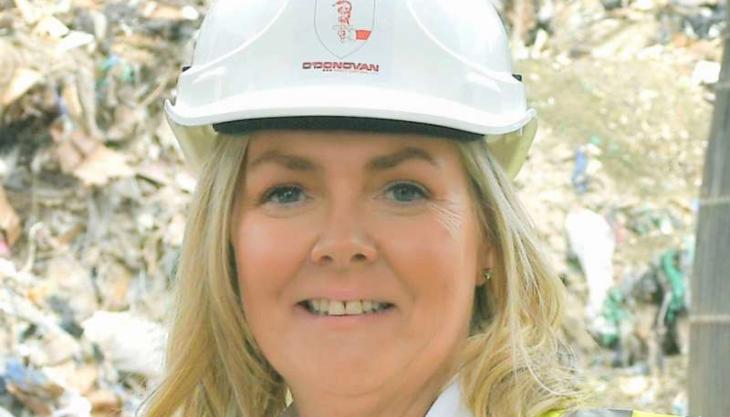 Jacqueline O'Donovan becomes one of the first of two women in the UK to complete a MSc degree in demolition management 
JACQUELINE O'Donovan, managing director of O'Donovan Waste Disposal, is celebrating academic success after being part of the first cohort of students to be awarded a Masters degree in Demolition Management at the University of Wolverhampton.
With an esteemed career in the waste management and construction sectors, Ms O'Donovan demonstrated exceptional experience and knowledge, leading her to be an ideal candidate on the MSc Demolition Management course. Ms O'Donovan is also one of the first of two women to complete the world's first demolition degree.
Designed by the University's School of Architecture and Built Environment – and accredited by the Institute of Demolition Engineers (IDE) – the Masters degree comprises a range of modules, including management, methodologies, sustainability, asbestos removal and building information modelling (BIM).
Commenting on the two-year MSc Demolition Management course, Ms O'Donovan said: 'I am delighted to be one of the first students to have achieved a Demolition Masters degree in the UK. I won't lie, it was very challenging at times, especially being a mature student but I am delighted that I ploughed on.
'I am over the moon to have achieved this and having left school at 16 years old, I did not envisage I would one day return to formal education, let alone work towards a Masters degree whilst working full time.'
Dr Paul Hampton, associate head of the school of architecture and built environment at University of Wolverhampton, added: 'Jacqueline should be extremely proud of her achievement in passing this pioneering Masters degree.
'We are the only University in the world that offers a programme for the entire lifetime of a building from design right through to demolition and it is thanks to the tireless efforts of our partners that we are able to develop programmes which are both relevant to industry and vital to supporting local, national and international economies.'