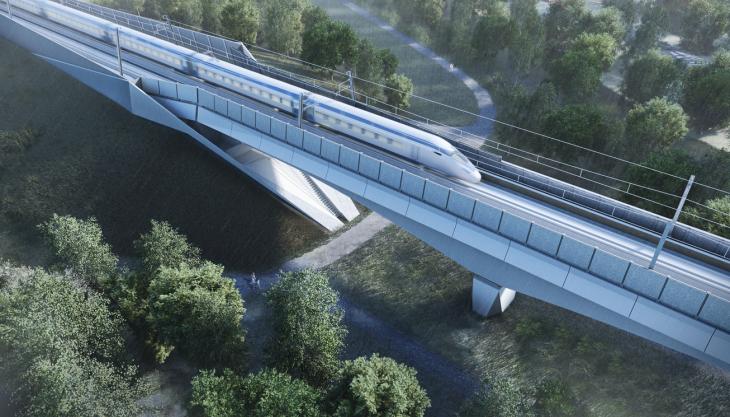 HS2 Ltd launch Wednesday webinar series to help Britain's SMEs bid for work on the project
HS2 Ltd have today announced that they are to hold a series of weekly webinars to ensure British businesses benefit from more than 400,000 contract opportunities that building Britain's new high-speed railway will create.
'Work with us Wednesdays' were first introduced by HS2's business engagement team in June 2020. The free-to-join webinars attracted more than 500 delegates and helped local communities understand the scale of the opportunity on HS2, and how to bid for upcoming contracts.
Since that time, HS2 has received the green light from the Government to extend the railway to Crewe, marking the start of HS2's journey north. It has also celebrated major construction milestones, including launching the first of 10 giant tunnel boring machines on the Birmingham–London section of the route.
This progress and momentum is creating brand-new supply chain opportunities, and this year's 'Work with us Wednesday' events are designed to make it easier for local businesses to find out how to get involved.
The one-hour webinars will begin on Wednesday 9 June and run for six consecutive weeks until Wednesday 14 July. Each week's session has a different theme, ranging from championing the importance of social value through to driving innovation. The themes are designed to help businesses understand how they can really stand out during the procurement process and boost their chances of winning a contract.
HS2's procurement and supply chain director, Andrew Cubitt, explained: 'Investing just an hour or two of your time over the next six weeks really could be the start of something big; the chance to secure the future growth of your business and your workforce.
'We want British businesses to take the lead in building Britain's new railway, and this is a great first step to ensuring that your company is among those creating a cleaner, greener future for us all.'
Building a railway the size and scale of HS2 requires suppliers, materials and services of all kinds. HS2 Ltd has already awarded around £18 billion worth of contracts, with a significant proportion of this value expected to flow out to the wider supply chain. By the end of 2022, it is estimated this figure will reach around £25 billion.
Matt Hadlington, HS2's business engagement manager, advised: 'These events will show just how simple it is to register an interest in joining HS2's supply chain. So, if you're wondering whether there's an opening for you, this really is a quick and simple way to find out.'
More than 2,000 businesses have already won work on HS2, with UK-based businesses making up 98% of contracts. For more information about the free webinars and how to register your attendance, click here.