How telemetry is becoming a must have for pump operators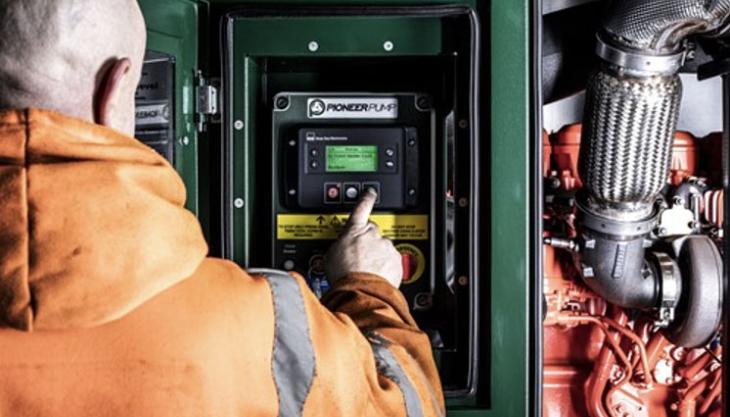 Following EU emissions legislation changes, and the implementation of Stage V engines, the need for constant pumpset monitoring has never been more important. Being able to access reliable pumpset data remotely, gives the operator greater confidence in their pumping system and helps to guarantee optimum engine and pump performance.
24/7 around the globe monitoring
Introduced in 2017, the Pioneer telemetry system allows customers to remotely control and monitor their diesel pumpset from anywhere in the world. The telemetry system can be fitted on all Pioneer diesel pumpset models, ranging from <19kW to >1,000kW; inclusive of EU Stage II to V. With the launch of Pioneer's new EU Stage V compliant EVO range, telemetry is now fitted to all rental pumpsets builds as standard. This allows for better tracking and control of all pumpsets in any rental fleet.
The telemetry system transmits key engine and pump data to the operator via a single dashboard. The webpage allows for maximum access and features; whilst the mobile app allows for quick access to the pumpset whilst on the move. Both platforms allow easy access to all pumpsets from anywhere in the world.
Key features
Control features include:
Start/stop control
Speed control
Monitoring features include:
Location tracking with geofencing
Running status
Fault diagnostics with engine fault codes
Track all sensor and engine parameters
Customisable SMS, in-app, and email pumpset status alerts
Engine loading alerts
Customisable reports
In addition to live control and monitoring, the Pioneer telemetry system offers the option of customisable reports that are automatically sent to single or multiple users. This allows fleet managers and operators to easily monitor and track pumpset usage, as well as plan maintenance regimes. Pioneer can white label the dashboard to suit customer branding, as well as fully set up and train organisations and their key users.
Saves time, reduces costs
Each pumpset is supplied with additional digital pump pressure sensors on suction and discharge and on fuel level sender, which feed into the control panel and telemetry system. This allows the operator to monitor the pump performance and schedule refuelling well in advance to prevent unnecessary downtime, reducing costs.
When a pumpset is installed on a remote application, the cost of having a service engineer on standby to visit the pumpset in case of breakdown can be considerable. By utilising Pioneer's telemetry system, the operator, or service engineer, can remotely view and diagnose fault codes in advance of travel, ensuring they have the correct spare parts and tools to repair the pumpset in a single trip.
Pioneer want to ensure that customers can easily monitor pumpset performance, increasing efficiently and ultimately saving cost for the business.
Case study of Pioneer's telemetry in use
In a four-week rental project, two 200SX diesel pump packages were on hire to an offshore cable laying company. The company is based in Greece, but the operation was conducted in the UK.
The client used the pumpsets as a standby and duty for laying cable on seabed. They had an underwater digging unit that cut a trench, then the 200SX pump was used to jet away the debris from the trench as the cable was laid.
They used the remote telemetry monitoring and control functionality for the operator to use the pumpset from the main control bridge on the boat, rather than having to stand out on deck whilst at sea. This saved both time and cost to the customer and Pioneer received positive feedback as a result.