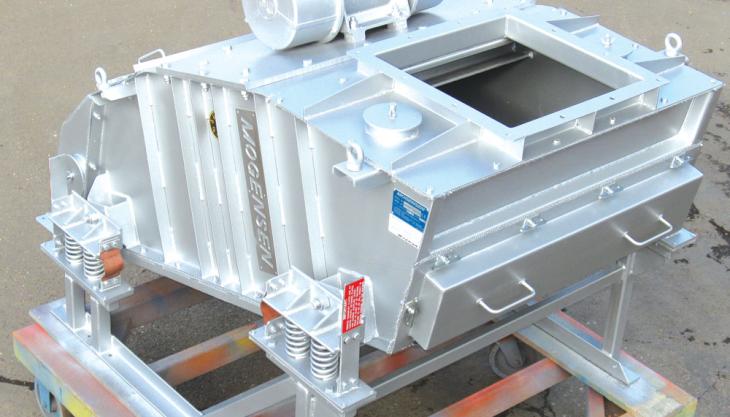 Mogensen Raw Materials have recently supplied a special high-temperature Type C1016 vibratory screen (pictured on the right) for the processing of hot –200mm coal-fired boiler economizer ash at a major power station in the Republic of Ireland.
The latest unit joins three other similar Mogensen screens, which are all fully enclosed with steel covers, and are connected to adjacent equipment through high-temperature, flexible couplings (also supplied by the company).
The C1016 machine is designed to handle up to 5 tonnes/h of ash at 450°C, and offer a 'policing' service by removing all material coarser than 40mm from the ash stream to protect the pneumatic conveying system downstream.
The oversize material, which consists of lumps of consolidated ash and boiler tube corrosion shields, is moved via chute-work direct to a number of trash skips. Meanwhile, the finer ash falls into a surge hopper serving two pneumatic conveying lines, which, in turn, transports the particles for further processing on site.
The Mogensen C1016 screen is driven by a single Invicta rotary electric vibrator, Type BLz 30-23/6, rated at 900W. All four machines were purchased and installed by Doncaster-based Clyde Bergemann Materials Handling, as part of a major turnkey project at the power station.
Mogensen Raw Materials Handling, Harlaxton Road, Grantham, Lincs NG31 7SF; tel: (01476) 566301; fax: (01476) 590145.