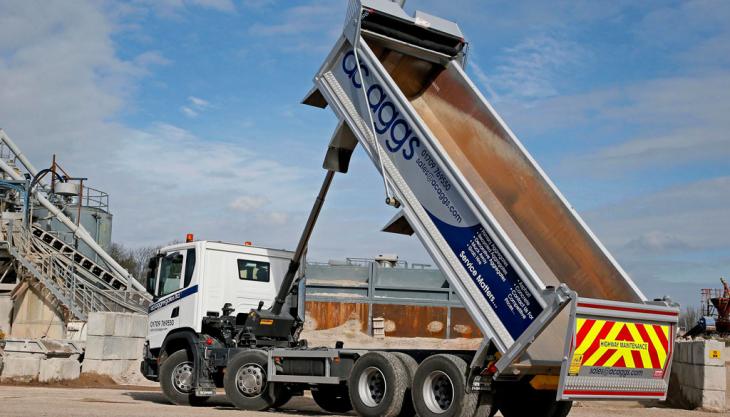 South Yorkshire-based company takes delivery of four new tippers equipped with Harsh FE tipping gear
WITH four new tipper trucks having recently joined their fleet, South Yorkshire-based AC Aggregates Ltd have nearly completed their 2019 fleet-update programme; the company's standard tipper specification being built around Harsh FE (front end) combined ram and tank tipping gears, Scania XT chassis and Townend steel bodies.
'This combination delivers everything that we want,' said AC Aggregates' fleet manager, Andy Todd. 'With tippers, payload, performance and practicality are our absolute requirements, plus, of course, the need to give our drivers a top-quality working environment.'
Often delivering more than five loads a day, the new steel-bodied trucks have a tare weight of 12.5 tonnes and can carry a 19.5-tonne payload.
'The Harsh FE gear is as light as front-end gear gets, yet without any compromise in performance or reliability,' continued Mr Todd. 'They tip fast, are easy to operate and, best of all, we've never had a single service or downtime issue with any of them. Harsh FE's really are 100% fit for purpose.'
Based in Maltby, just outside Rotherham, AC Aggregates now operate a total of 15 tippers, including a pair of 44-tonne artics. Founded by Andy and Debbie Collins more than 20 years ago, the company has seen steady and significant growth, not least thanks to a commitment to continual reinvestment back into its vehicle fleet.
'In this business, the best way to keep ahead is to maximize our operating efficiency,' said Andy Collins, 'and that means taking every advantage that the most modern tipper specifications can offer us.
'The question is always, how can we get more work from a truck, but at a lower total operating cost? This is the productivity issue we are all looking for, and hence what modern trucks continually seek to address. 
'In turn, that's why we place such importance on keeping the fleet fully up to date. And, of course, having top-quality trucks helps us to attract and retain good drivers too.'
With a wide operating region stretching across Yorkshire, Lincolnshire and down to the Wash, AC Aggregates provide not only bulk haulage of sand and stone products, but also contract earthmoving and waste removal. Additionally, sister business AC Marine Aggregates Ltd supply more than 200,000 tonnes of dredged CE-marked concreting sand per year to the construction industry.
Visitors to this year's TIP-Ex Show in Harrogate will be able to see another new AC Aggregates truck on the Harsh stand. Once again fitted with Harsh FE tipping gear, this chassis is more unusual, being a 'tridem' specification tipper fitted with a lifting and steering rear axle.