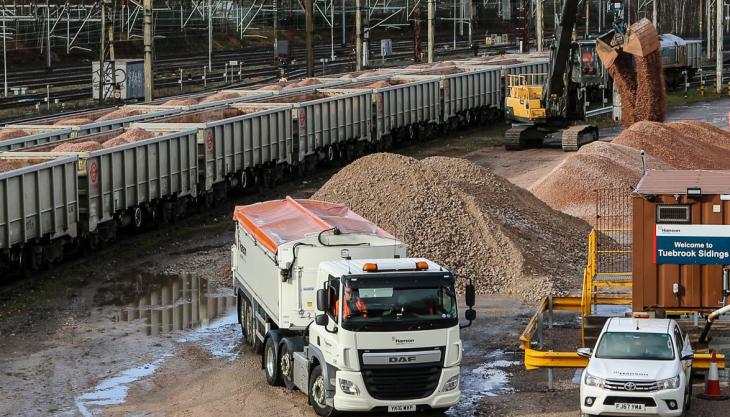 Company's latest aggregates rail depot set to reduce vehicle movements and CO2 emissions
THE first train has delivered material from Hanson's Shap Quarry, in Cumbria, to the company's new aggregates rail depot near Tuebrook, Liverpool.
The move is part of Hanson's strategy to improve their network of rail-connected depots, which help reduce the number of vehicle movements and associated CO2 emissions.
The Tuebrook depot is less than four miles from the Liverpool Waterfront, so is well placed to support plans for redevelopment in the area, including the new Everton Football Club stadium.
'This is an exciting new venture for us in conjunction with GB Railfreight (GBRf) and is part of our plan to grow our UK network of depots,' said James Whitelaw, managing director of Hanson Aggregates.
'We expect to supply around 200,000 tonnes of aggregates into the local Liverpool construction market from the Tuebrook depot, which will save around 250,000 truck miles each year.'
GBRf will operate an average of two trains a week, each carrying approximately 1,800 tonnes of material, to the new depot, which has been developed from under-utilized rail land at the Merseyside site.
The two-year deal builds on an existing successful partnership between GBRf and Hanson, which sees the movement of aggregates from Shap Quarry to the company's site at Ashton-in-Makerfield, Greater Manchester.