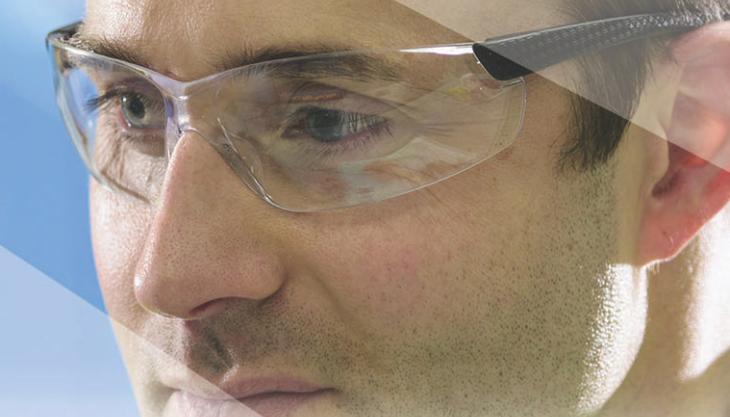 Riley high-performance safety glasses and goggles said to offer fresh approach to eye protection
REPRESENTING a completely fresh approach to eye protection in industrial environments, a brand new range of high-performance safety glasses and goggles – known as Riley – has been launched by hand protection specialists Globus. 
Created by a dedicated team of safety eyewear experts with decades of experience, and designed to deliver comfort, protection and style, Globus say the Riley range has been engineered using the latest safety eyewear technology, innovative designs and unique performance features. 
Key developments include the TempFLEX system – flexible, thermoplastic elastomer (TPE) side arms and temple tips that are designed to provide exceptional comfort around the ears whilst gripping securely. Other design features include an inclinable temple mechanism, adjustable nose bridge and length-adjustable temples, allowing the wearer to create a high-comfort, tailored fit for their individual face shape.
Robust polycarbonate lenses provide high-performance protection from impacts and deliver perfect optical quality in accordance with EN166, whilst three specialist coating technologies have also been developed – Riley TECTON, Riley TECTON 400 and Riley ARIDA.
For enhanced durability on the inner and outer surfaces of the lenses, the TECTON coating, which is available as standard across the majority of the range, delivers the highest-grade anti-scratch and anti-fog treatments available. The TECTON 400 coating offers high-level UV protection whilst moisture-repellence is provided for outdoor workers through the ARIDA coating. Every model in the glasses range comes with a variety of lens tint options, allowing safe working in a wide array of environments and conditions.
The contemporary and sports designs are available in full-frame and single-lens variations along with wrap-around and panoramic options. There are also non-metallic versions designed for critical environments such as electrical maintenance. In addition, a full RX polycarbonate prescription range is available via Riley's in-house prescription service.
Where wider protection is required, the new Riley goggles are lightweight and comfortable thanks to their soft PVC/TPE frames, including comfort nose bridge and padded seals. Full protection is delivered through impact-resistant polycarbonate lenses that offer a wide field of vision with the option of an accompanying face shield, to guard against liquid splashes and airborne particles. Several models in the range can also be worn over prescription frames.
Haraldur Agustsson, chief executive of Globus Group, said: 'Globus have built a reputation as a world leader in hand protection by setting the standard for safety, productivity and 'wearability'. Talking to our customers, it was clear that when it came to eye protection, the market was very traditional, slow to react and all too often delivering products that were unnecessarily overcomplicated.
'We saw an opportunity to take a completely fresh look at eye protection and created Riley, which strips out the traditional problems and delivers exactly what the market needs; high-performance protective eyewear engineered with innovation, ingenuity and high-level comfort. Each model is crafted to exceptional standards with a distinctive, modern style.'