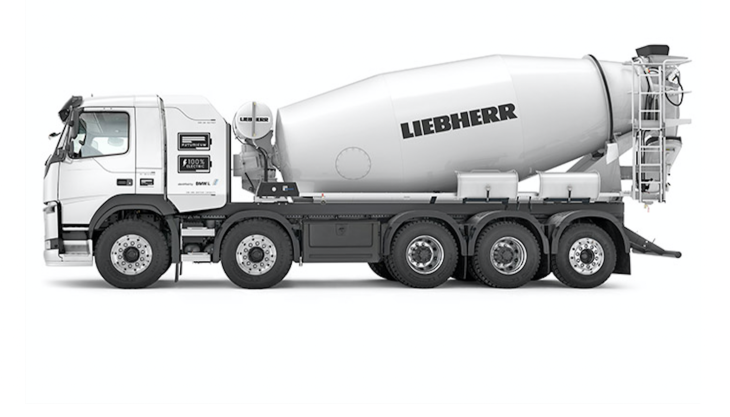 First fully electric 10 and 12 cubic metre truckmixers from Liebherr and Designwerk
LIEBHERR and Designwerk have developed the first fully electric truckmixers with 10 and 12 cubic metre drums – the ETM 1005 and ETM 1205 respectively – on a five-axle, 680hp Futuricum chassis for quiet, emission-free ready-mixed concrete transport and delivery.
The first machines are due to start work with Holcim and KIBAG in Switzerland from autumn 2020.
Thanks to their large accumulator capacities, charging of the batteries is normally only necessary overnight. Energy recovery during braking or downhill driving further increases the range of the trucks and reduces operating and maintenance costs.
The drum drive developed by Liebherr and ZF consists of an efficient, low-maintenance electric motor and mixer gearbox arrangement. For the first time, both the truck and the truckmixer body are powered jointly by the traction battery, eliminating the need for costly power electronics components.
The new Liebherr Generation 05 electrified body is said to offer further advantages: the compact electric drive for the mixing drum is flanged directly to the drum and its high efficiency ensures that power consumption for relieving the traction battery of the Futuricum truck remains low. It also eliminates the need for any hydraulic equipment, with no hose connections, no pump and, therefore, no risk of leakage.
According to Liebherr, the truckmixer body boasts a low net weight combined with the best possible transport volume, a long service life thanks to its special wear-resistant steel, and an ergonomically designed operating system and access points.
A platform system on both sides allows flexible positioning and attachment of accessories or attachments to suit customer requirements, whilst a temperature-management system ensures that components are cooled or heated as required.