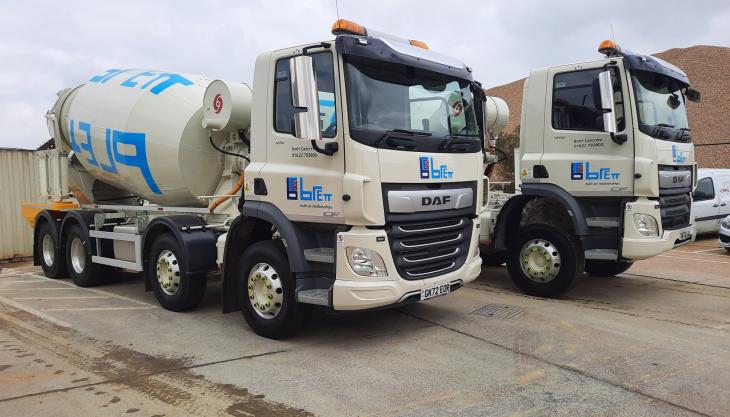 New vehicles fitted with side scanners, sophisticated camera systems and Euro 6 engines
WHEN purchasing new equipment or vehicles, Brett Group say they are continually looking to improve safety and sustainability by considering the use of alternative fuels, fuel efficiency and safety standards.
Working towards these improvements Brett Concrete have recently received 13 new DAF FADCF410 truckmixers, with a further six due to be delivered early this year.
The new vehicles, which are fitted with the latest safety equipment including side scanners and a sophisticated camera system, are specified for the 'Direct Vision Standard', a system that ensures drivers have sufficient sight through their front cabin – helping to eliminate blind spots and risks to pedestrians and cyclists.
Meanwhile, Brett Aggregates have invested in the safety and sustainability of their truck fleet and received 18 of the 28 new vehicles ordered last year. These are equipped with enhanced safety features and fuel-efficient Euro 6 engines, which help to reduce diesel emissions.
Brett say this works alongside their FORs accreditation which includes driver training for best practice in safety, efficiency and environmental protection.
Shaun Baker, head of transport for Brett Aggregates, explained: 'We are expanding our fleet to 54 to increase our haulage capacity and meet growing volumes. The newer vehicles, and their updated engines. are more fuel efficient and meet our objectives of continuously reducing our carbon emissions.'