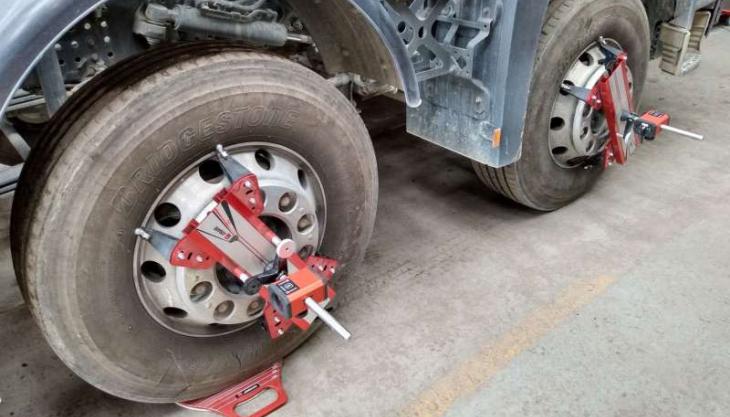 Ready-mixed concrete haulier saves on tyres and downtime with two AES workshop solutions

CRIS Services Group, the Purfleet-based ready-mixed concrete hauliers and commercial repair specialists, have reduced workshop costs, extended tyre life and cut vehicle downtime since acquiring a Josam wheel-alignment system and portable heat inductor from AES UK.

With 40 vehicles carrying wet concrete for Hanson UK and a mixed fleet of concrete truckmixers for hire, Cris Services were keen to improve workshop efficiency and drive down operational costs such as tyre replacement and fuel.

'The equipment we invested in from AES provided the solution for two key challenges: preventing tyre wear caused by mis-aligned wheels and dealing with lengthy workshop procedures when coping with seized nuts and bolts etc,' said transport manager Alin Gabor.

The Cam-aligner is a compact digital wheel-alignment system which allows Cris Services to carry out on-the-spot checks and rectifications without the need to book into a third party.

'The equipment is fully portable and uses advanced camera technology to establish the true chassis centre line of the vehicle,' explained Mr Gabor. 'With only a half turn of the wheel, it determines any toe, camber and out-of-square measurements.'

Wireless technology transmits the data from the calibration equipment to the computer and a clear on-screen diagram shows exactly where the issues lie and what corrective action needs to be taken.

'All this is done in a fraction of the time taken by less-advanced systems, and more thoroughly too,' continued Mr Gabor. 'It saves a great deal of time for our HGV, PSV and LCV customers during servicing, maintenance and repairs, and also within our own fleet when preparing vehicles for MOT.
'Plus, our customers can expect a full report and analysis, which is printed out after each job. It's a good piece of kit and perfect for preventing potential handling problems and tyre wear before it occurs.'

According to Cris Services, the Josam Cam-aligner is saving so much in terms of tyre wear, labour and fuel, that it is likely to pay for itself within the first year – an assessment which, the company says, is also likely to be the case with the AES HI 3.5 heat inductor, supplied at the same time less than a year ago.

'This little piece of equipment scores highly in terms of safety, whilst allowing us to speed up routine maintenance and repair work, such as seized up ball joints, chassis screws, casings and wheel nuts,' said Mr Gabor. 'Using gas, we would often have to cut away the seized component, which meant first removing any flammable materials or electrics that could be affected by the heat.'

The AES HI 3.5, however, uses electrically generated heat, which means the operator and workplace are not exposed to open flame, hot gases and the risk of fire or explosion. Moreover, the system is lightweight and water-cooled.

'These two pieces of equipment have certainly gone a long way to improve the quality and value of the service we provide to our customers,' concluded Mr Gabor. 'At the same time, they have proved to be a major commercial benefit for our own haulage operation.'