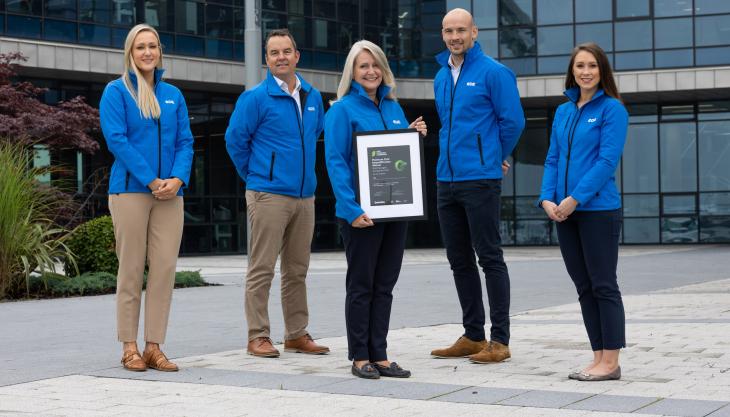 Company requalifies for prestigious Platinum status in 2021 Deloitte Best Managed Companies Awards
CDE have been named a Deloitte Best Managed Company for the thirteenth consecutive year, having requalified for Platinum status in the highly respected scheme by demonstrating 'exceptional business performance'.

The Best Managed Companies Awards, run by Deloitte Private in association with Bank of Ireland, shine a spotlight on outstanding private businesses from across the island of Ireland and the exceptional performance that drives them. 

It is the only awards scheme that considers a business' performance from every perspective, and entrants to the programme compete for the designation in a rigorous process that evaluates the calibre of their management abilities and practices in addition to the strategy, capability, innovation, culture, and financial performance of their companies.

The winners were announced at the annual Best Managed Companies Awards and virtual symposium on 8 September 2021.

Commenting on the award, Marc Jennings, chief executive officer of CDE, said: 'The Deloitte Best Managed Companies scheme is world renowned and requalifying for Platinum status is great recognition for the CDE team and a real endorsement of the work we do for our customers.

'Being a Best Managed Company also helps us in our mission to attract and retain the very best people in our industry. We have more than 100 engineers with a combined 1,000 years of experience, and every day we are working towards delivering the highest service levels possible.
'Our people want to work for a world-leading business and achieving Best Managed Companies Platinum status helps reinforce that CDE are on a journey to being the very best we can be. We don't claim to be there yet, and continually welcome learning and growth opportunities, but that's what makes us special; we're relentless in our pursuit of knowledge, challenge and improvement.'
Established in 1992 in Cookstown, Northern Ireland, CDE operate in five global regions – the Americas, UK & Ireland, Europe & Russia, Middle East & Africa, and Australasia. They export to more than 60 countries and have delivered over 2,000 proven solutions globally, including the world's largest sand washing plant in Qatar and the world's largest construction and demolition waste recycling plant in Norway.
Mr Jennings continued: 'At CDE, we turn waste that would otherwise be going to landfill into sand, the most used natural resource after air and water. As such, we lead the way in turning waste into something useful, making a positive contribution to the planet. Really focusing on this purpose helps us inspire our people to achieve their best and drive the business forward.'

Anya Cummins, lead partner for Ireland's Best Managed Companies Awards programme at Deloitte Ireland, commented: 'This year, a record number of applications to the awards programme were received. The quality of the applicants demonstrated the extraordinarily high-quality businesses operating across Ireland today.
'In a relentlessly challenging year, the winning companies displayed true bravery in how they adapted to change, with many innovating and some even accelerating their plans for their businesses.'