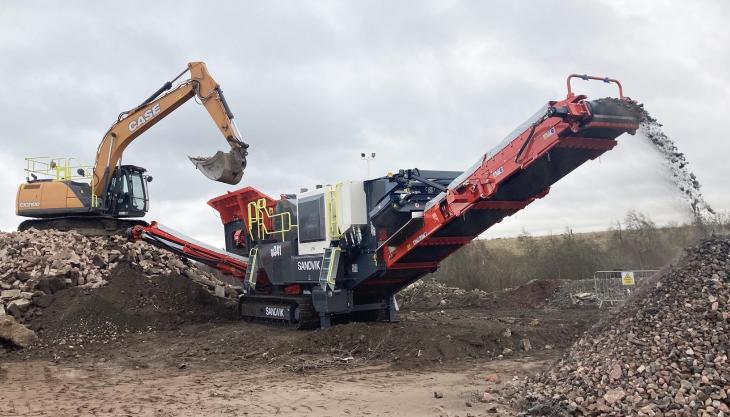 Latest investment strengthens company's commitment to circular economy
RECYCLED aggregate specialists Brewster Bros have taken delivery of a new Sandvik QJ341 mobile jaw crusher for use at their waste-recycling operation in Livingston, West Lothian.
The family-run business has grown rapidly since it was established in 1954 and today is renowned as a 'one-stop-shop' for high-quality recycled aggregates and waste-management services in the region. 
With many corporate enterprises and SMEs committed to combating climate change, not to mention adopting new technologies and best-practice approaches to decarbonize their energy supply and consumption, Brewster Bros have been quick to shift from the linear 'take, make, waste' approach in the construction sector to a circular economy business model. 
From preserving natural resources and virgin aggregate to recycling more construction, demolition and excavation waste materials, the company not only prides on its own sustainable waste-management practices, but also on using the highest quality and specification equipment for its operations. 
Recognizing the need to upgrade their waste-recycling equipment (ie processing incoming feed material and reducing it down to 75mm for 6F5 crusher run), the Sandvik QJ341 tracked jaw crusher was the obvious choice for Brewster Bros.
An evolution from its predecessor, the QJ341 comes with the same customer-focused machine benefits but with several more upgraded features for increased productivity, higher uptime, improved safety, and ease of operation. These include a load control system for the feeder drive and jaw level sensor to monitor feed and ensure continuous and uninterrupted crushing.
Designed for a wide range of crushing applications, including waste-recycling, the Sandvik unit features a large 1,200mm x 750mm (48in x 30in) feed opening, hydraulically adjustable CSS (close-side setting), and reverse crushing action to relieve blockages.

The QJ341 is also fitted with the latest emissions-compliant engine for lower carbon and noise emissions – key environmental benefits that have improved on-site working conditions for Brewster Bros. 
Purpose designed to help customers get the very best out of their Sandvik equipment, the QJ341 mobile jaw crusher for Brewster Bros is fitted with the My Fleet remote monitoring system as standard, together with seven years' complimentary data access, which provides live monitoring of plant performance, hours, location, and other machine parameters.