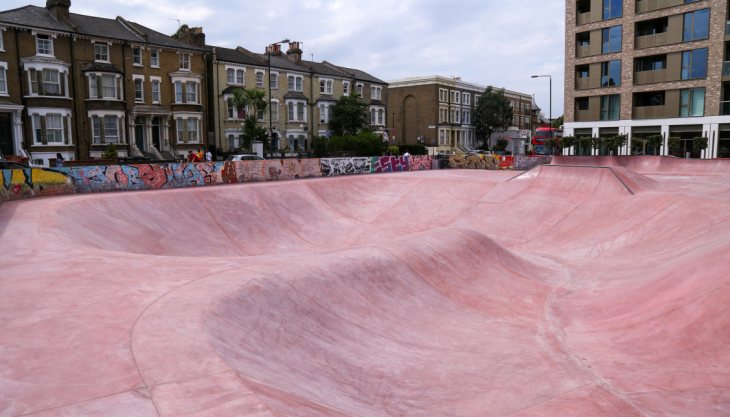 Capital Concrete supply coloured concrete for one of the oldest skateparks in the world
CAPITAL Concrete have supplied concrete for one of South London's most iconic skateparks, which has undergone an extensive refurbishment to welcome a new generation of riders.
Known locally as 'Brixton Beach' or 'Brixton Bowls', Stockwell Skatepark is one of the oldest skateparks in the world and is valued by both skaters and BMX riders within the borough of Lambeth and beyond. Since its construction in 1978, Stockwell has been resurfaced on several occasions, but its condition has only worsened over the years.
Hoping to help encourage a new generation of riders – who may be attracted to skateboarding following its Olympic debut at the recent Tokyo games – Lambeth Council actioned the skatepark's restoration, which started earlier this year.
Capital Concrete supplied coloured concrete for a complete refurbishment of the skatepark, which required a state-of-the-art surface. This has returned the distinctive red shade, last seen during the park's 1990s and 2000s golden era.
Luke Smith, Capital Concrete's managing director, said: 'As well as supplying large infrastructure developments around the Capital, we are proud to be involved with community projects, such as the iconic Stockwell Skatepark. The historic and cultural value of Stockwell is particularly unique, and we are delighted to have provided our industry expertise and high-performance material for its refurbishment.'
The project was led by Betongpark, one of Europe's leading skatepark design and construction firms. Lambeth Council also worked with local community members to ensure that the park would be accessible and enjoyable for newer skaters and veterans alike.
The newly renovated Stockwell Skatepark, which includes recently added obstacles such as a quarter pipe along the northern wall, improvements to the design for those with different needs and abilities, and a refreshed viewing area, is now open.