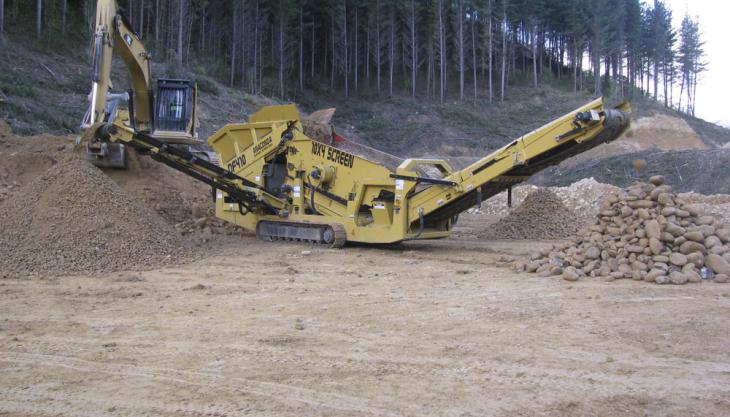 Anaconda have announced their attendance at the NordBau annual trade event, which takes place in Neumunster from 12-17 September. NordBau is the biggest technical building fair of its kind in Northern Germany. 
Earlier this year Anaconda appointed Prall-Tec GmbH in northern Germany as official distributors for the full range of Anaconda mobile screens and conveyors. Germany is an important market for Anaconda and they are delighted to be represented by Prall-Tec  GmbH, who are well known in the German market for their range of crushers. This new partnership will allow them to offer crushing and screening solutions to their customers.  
Equipment to be showcased at NordBau 2013, include the DF410 tracked screener and a tracked stacking conveyor. The DF410 is a compact machine capable of screening and stockpiling up to 250 tonnes/h of material into three sizes. This entry-level screener is suitable for those restricted by working in urban areas. Anaconda say the screener is competitvely priced and is easy to transport and set up on site. It also ships in a standard 40ft container without any breakdown or removal of parts.
The DF410 will be accompanied by the TR60 60ft (18m) track-mounted stockpiling conveyor.  Anaconda's conveyor series has been designed to ensure the operator maximizes the processing of materials by keeping screens or crushers operating at maximum capacity. 
Micheal Burns, European dealer manager, commented: 'The NordBau show is an ideal opportunity for Prall-Tec to exhibit Anaconda's innovative range of equipment and meet our customers. Germany is a competitive market where customers have high expectations.  Anaconda products suit this market with their proven performance and Prall-Tec offer excellent after-sales service.'
For further information on Anaconda's products, visit them on stand S 139, south area or email sales@anacondaequipment.com.  
Anaconda are currently looking to expand their network of distributors in other parts of Europe including south and east regions of Germany.