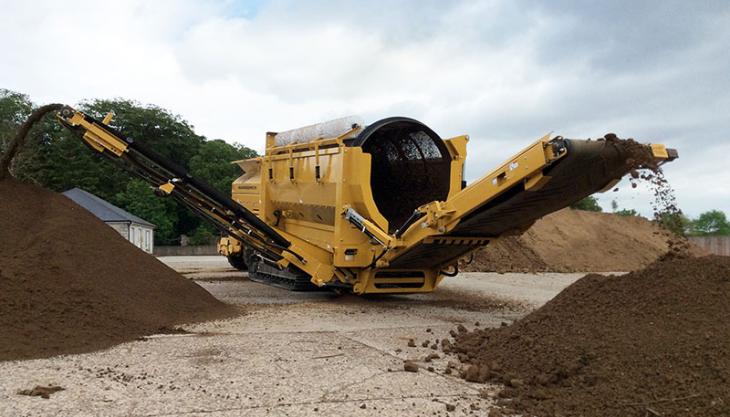 New model developed in response to customer demand for handling larger volumes and feed sizes
ANACONDA Equipment have introduced the TD620 trommel screen following demand from customers requiring a capable machine that can handle larger volumes and feed sizes than those offered by the TD516 model.
Reflecting their expertise in trommel design/manufacture, Anaconda have launched the TD620 trommel screen specifically for processing materials such as waste, compost, woodchip, soil and related products.
Equipped with a Stage IIIB-compliant JCB Ecomax engine (124hp) as standard, the TD620 unit has been designed with an optional dual power system to reduce fuel consumption, emissions and noise levels.
It also incorporates a modern control panel that allows operators to easily configure the machine to meet required applications. The control system features: a drum load- sensing system; forward/reverse four-wheel drum drive with variable speed control; and variable speed control on all conveyors to optimize throughput requirements.
According to Anaconda, the TD620 trommel screen is extremely robust with a high-capacity drum suitable for efficiently processing materials in challenging applications, from C&D waste to fine soil screening. The load-sensing material feed provides an optimum utilization of the large screening surface. Thanks to its modular design concept and the numerous screens and drum types available, the TD620 provides suitable solutions across a wide range of sectors.   
To help servicing and maintenance on the trommel screen, a hydraulic lift-out drum allows operators to carry out a quick drum change, reducing downtime when changing from one screen size to another. The 20-tonne TD620 trommel screen is available in both wheeled and tracked versions.
Martin Quinn, operations director for Anaconda, commented: 'Demand is once again driving us to design and manufacture larger mobile screening products. The TD620 is engineered to offer operators higher levels of production and the ability to feed and process large feed material. The trommel is another quality product added to the Anaconda range and will provide our dealer network with yet another option to our customers around the globe.'