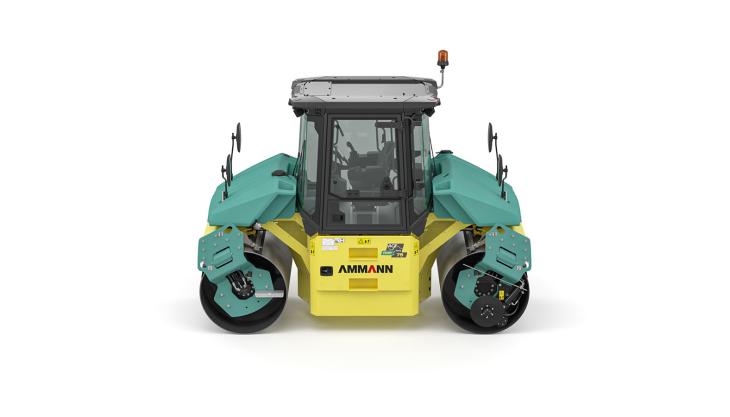 Latest ARP 75 machine offers fingertip steering, enhanced operator comfort and better visibility
AMMANN have unveiled the new ARP 75 pivot-steer tandem roller, designed to offer high manoeuvrability, adjustable compaction widths, exceptional visibility, and fingertip operator control.
The machine is also available in a 'combi' version, with four tyres to increase its use on more applications and jobsites. Depending on the unique steering settings (eg off-set mode), the ARP 75 is well-suited for open, straight jobsites – such as roundabouts and urban areas – where steering accuracy is a priority. 
The pivot-steer roller also provides greater visibility and safety, thanks to a new symmetrical cab that provides 360°visibility from the operator station. The cab redesign integrates four ROPS posts (previously in the cab corners) directly in the main structure and near the doors.
While the new Ammann tandem roller is compact, the cab is also spacious and extremely quiet. It is suspended and isolated from external heat and vibration. The ARP 75 operator station extends beyond the 1x1m rule (in both directions) which, Ammann claim, is another significant safety feature, whilst well-designed and positioned water tanks improve sight lines to all drum surfaces and edges.
The advanced operator station has integrated, centralized controls that are located near the operator and easy to reach at all times, regardless of the seat position. This reduces reaction times and improves safety.
The operator's seat is fully adjustable and rotates 270° to further optimize visibility from the cab. The machine is also equipped with fingertip steering (FTS), making it more operator friendly, comfortable, and easy to control. FTS replaces the traditional steering wheel and allows operators to keep both hands on the armrests for improved comfort. FTS also offers advanced palm support that prevents fatigue and injuries from repetitive motions.
A new 10in control display helps operators run all machine functions simply, safely, and quickly. This includes vibratory parameters, lights, and ACE-force – Ammann's advanced continuous compaction control system.
The operating width of the ARP 75 is 1,500mm (59.1in). To improve machine versatility, 'crab mode' (off-set mode) is available, which increases working width and enables compaction close to curbs and obstacles.
Standard on the roller is a two-stage vibratory system with a multiple range of frequencies that helps operators precisely adjust compaction output. The adjustable frequencies range from 38–5H5z and are able to deliver compaction output in the range of 47-92kN per drum.
Steering is precise thanks to a combination of FTS and four steering cylinders – two for each drum. High manoeuvrability is carried out from wide drum turning angles ±24°. This provides an exceptional inner radius of less than 3m (9.8ft). Varied steering modes are available – front drum only, rear drum only, synchro (where both drums steer) and crab.
The roller is powered by a Kubota V3307-CR-T diesel engine (both Tier 4 Final and Stage V compliant) that delivers 54.4kW (74hp) with EGR/DOC/DPF/SCR after-treatment technology. Available on the ARP 75 are ACE-pro or ACE-force intelligent compaction systems, which make it easy for operators to monitor and assess compaction progress.
The ARP 75 is also equipped with an auto-diagnostics system that communicates with service technicians. External testing ports on hydraulic components allow quick diagnosis and reduced machine downtime.