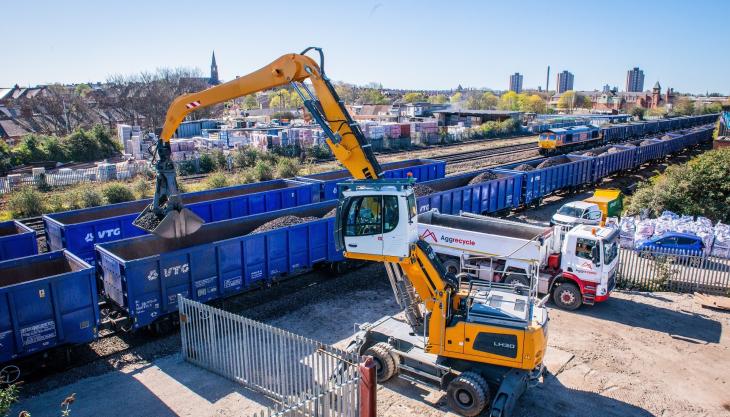 Recycled aggregates supplier announces partnership with DC Rail to deliver C&D waste by train
AGGRECYCLE have struck a new deal with rail freight operators DC Rail to bring in construction and demolition (C&D) waste materials by train at their Urban Quarry site, in Leicester.
The move to rail freight will see thousands of tonnes of spent aggregates delivered and recycled at the company's Syston St East recycling facility in the city centre. Each rail delivery is equivalent to 81 truck movements being taken off the UK road network – underlining Aggrecycle's commitment to reducing the number of vehicle movements and associated carbon emissions.
The company's directors also hope the new rail arrangement will see business turnover increase by up to 60%.
Darren Thompson, site manager at Aggrecycle, expects Urban Quarry to become a hub for the collection of aggregate arisings (eg brick, concrete, concrete etc.) from demolition projects, with deliveries arriving from all over the UK and then being used on construction sites around the Leicester area.
Initially, the rail service will use existing infrastructure adjacent to the recycling site. Subject to the success of the project, Mr Thompson said new rail infrastructure could be installed at Urban Quarry within the next 12 to 18 months.
'This is a development that has been eight years in the making and now that infrastructure projects are proceeding at pace around the UK, the time is right for us to make this new arrangement with DC Rail,' he commented.
'We are one of very few urban recycling quarries in the country which has a rail feed, so it's an exciting move. The Government is keen for more transport to be done by rail, rather than road, so we're excellently placed to benefit.
'Leicester is positioned at the heart of the country so we can take deliveries from anywhere and send our high-quality recycled products back out to any location, particularly locally. The cost savings and reduction in carbon footprint are significant, so we'd certainly encourage construction companies to consider the benefits that the use of recycled aggregates can bring.'